Bastar – Specialized Weavers Hub in India
India is world famous for its heritage, traditions, rich culture, arts, handicrafts and what not. The art of WEAVING is among one of these famous specialists from Indians.

Today we are taking you to BASTAR district of the state of Chhattisgarh in Central India. Of the total population of Bastar, 70% are tribal people like Gond tribe, Maria, Muria, Dhruva, Bhatra, Halba Tribe etc.
Artisans and weavers are traditionally weaving handlooms in Bastar since ages. Once such tradition particular to this region are woven textiles with AAL. This is a deep red natural dye produced from the roots of the aal tree (Indian mulberry). This aal dye is predominantly used by the Panika community of Bastar, Chhattisgarh and Kotpad, Odisha to dye textiles worn by the Panika, Gond, Muria and Maria communities of the region.
The weavers create the textiles using PANIKA weaving techniques and then by dyeing the yarns and call it PATA. This Pata is used to make sarees or stalls, for tribal women and is used as turban or shoulder cloth for men.
Picture Credit: (Weavers keep Bastar's pata saree tradition alive using wooden looms (villagesquare.in))
The art of dyeing yarns with Aal is running from approx. 200 years and is carried forward across generations. The three main castes of weavers are Panka, Mahar, Chandar. The children starts being trained from the age of 10-12 years and they become skilled weavers by the age of 17-18. Dyeing part is mainly handled by women of these tribes.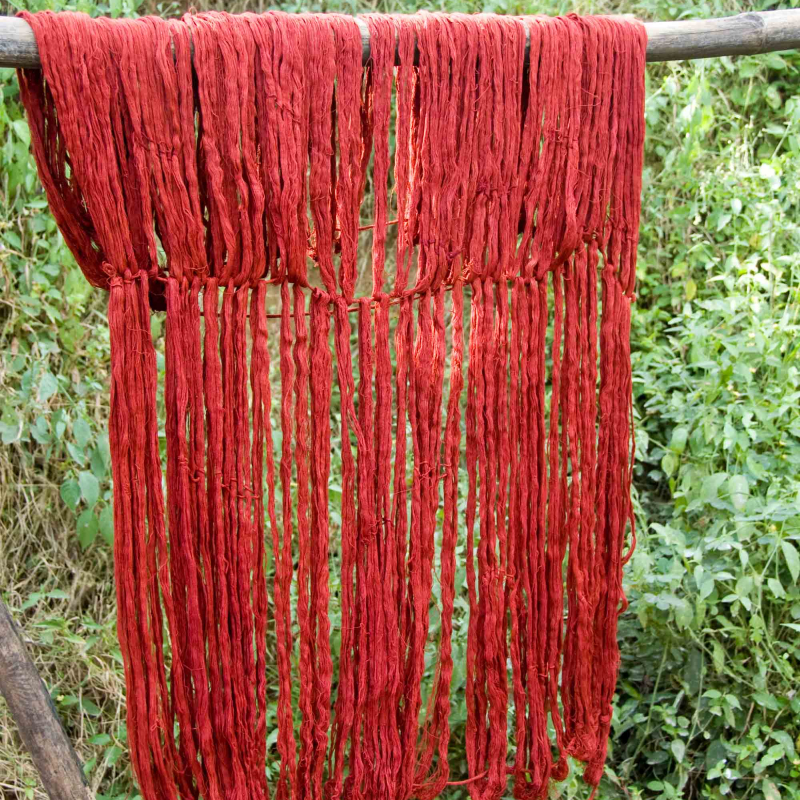 Picture Credit: (Colours of Nature - Sustainable Dyeing with Aal (Morinda citrifolia) | Sahapedia)
The PATA designs are very own of Bastar region. The sarees made from Pata yarns were traditionally in creamy white backgrounds having maroon or burgundy borders. Koypal village in Bastar was once the hub for weaving Pata sarees.
(Weavers keep Bastar's pata saree tradition alive using wooden looms (villagesquare.in))
---